The Azores Islands have been on my wishlist for as long as I can remember. So when the opportunity to SUP inside a volcano arose, I took it!
I first heard of this amazing place from one of my oldest friends whose family is originally from Santa Cruz in the outer islands. I also would come to know many "Potagee" Hawaiian's over the years. Later learning how much the Portuguese people of The Azores Islands would inspire and contribute to the people and culture of the Hawaiian Islands. Which, comes to a shock to most people, including Portuguese, and Hawaiians, when they first hear this fact. (Ex: The Ukulele or "cavaquinho", was first brought to Hawaii by the Portuguese in the late 1800's)
The first evidence of this connection becomes apparent as you fly into the island of Sao Miguel. If I didn't know better I would have thought I was landing on Maui…
The lush green slopes of the volcano rising from the ocean blue. I felt the Mana and the familiar warm embrace of the island immediately…
I felt like I was home…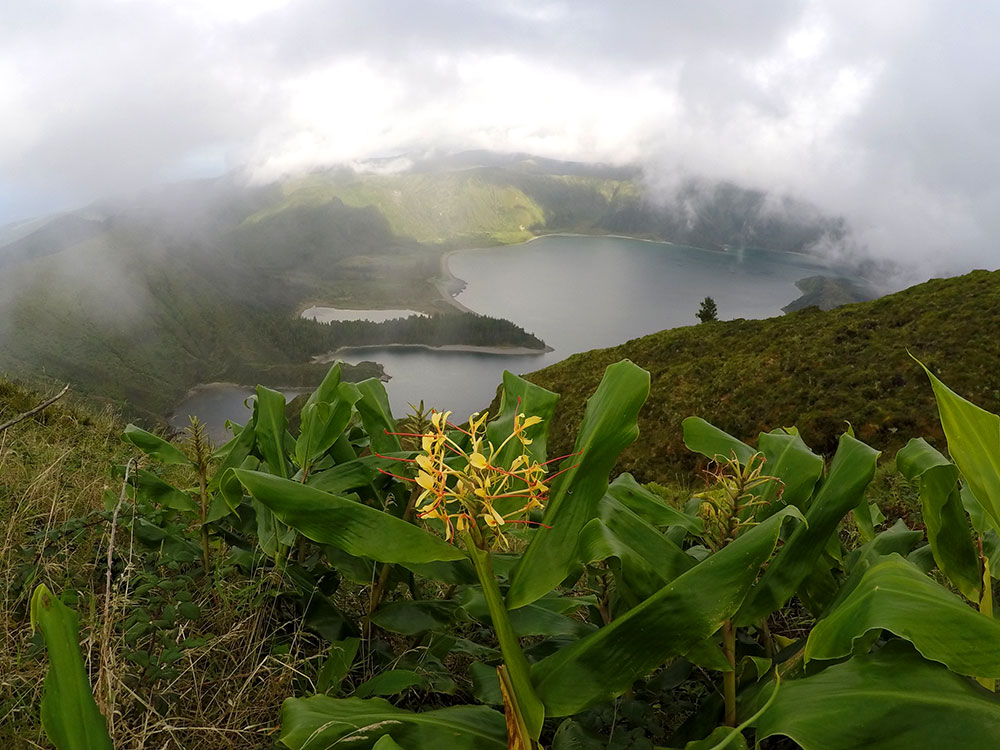 Furnas and hot springs
Our first day on the island was incredible. It truly felt like we were guests of Pele (the goddess of fire). Sao Miguel is hydrothermally active, with hot springs and sulfur pits throughout the island. It felt like at every turn you had the opportunity to soak in a warm waterfall.
We headed towards Furmas, where they are famous for using thermal pockets in the earth to cook a Portuguese specialty called Cozido. A big pot filled with every kind of local meat, sausage, and vegetables. Then put in an active thermal hole and covered with dirt.
We would watch our lunch being cooked and then pulled from the earth.  We literally followed our lunch to the famous Tony's in Furnas and shared a huge portion of Cozido cooked by Pele herself.  Delicioso!
With full stomachs, we were off for a soak in the hot springs at Dona Beija. This place is unreal! The excitement starts with the price of entry ($4) This Garden of Eden has seven soaking pools, all of which flow into the warm creek that runs through the center of this thermal oasis.
It is impossible not to feel relaxed in this Jurassic Hot Springs setting.
The comparisons to Hawaii kept coming as we made our way around the island. I had to constantly keep reminding myself that I was not back in Hawaii.
A hard task when I was buying fresh local pineapple and bananas at roadside fruit stands. The hillsides were covered with ginger lily, taro, and banana plantations.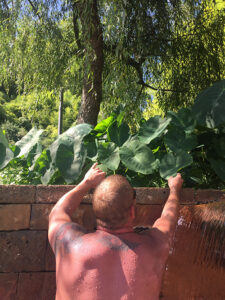 Paddle inside a volcano
Day two…. and we were ready for Action! I was super pumped to paddle inside a volcano. Sete Cidades (7 Citys) is two lakes inside the crater of a dormant volcano on the west side of the island. To say this place is beautiful is an understatement.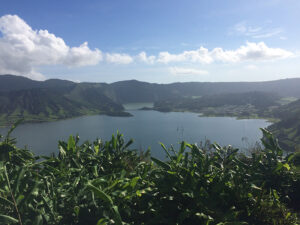 We met up with Jorge who runs Garoupa SUP Rentals, Located right on the water in the village. Jorge is a great guy and an ambassador for the sport. He rents SUP's and Kayaks by the hour and also has a traditional Hawaiian Racing Canoe that he gives tours in. You can imagine the look on my face when we got there and found a Hawaiian canoe on the beach inside of a volcano!?  Haha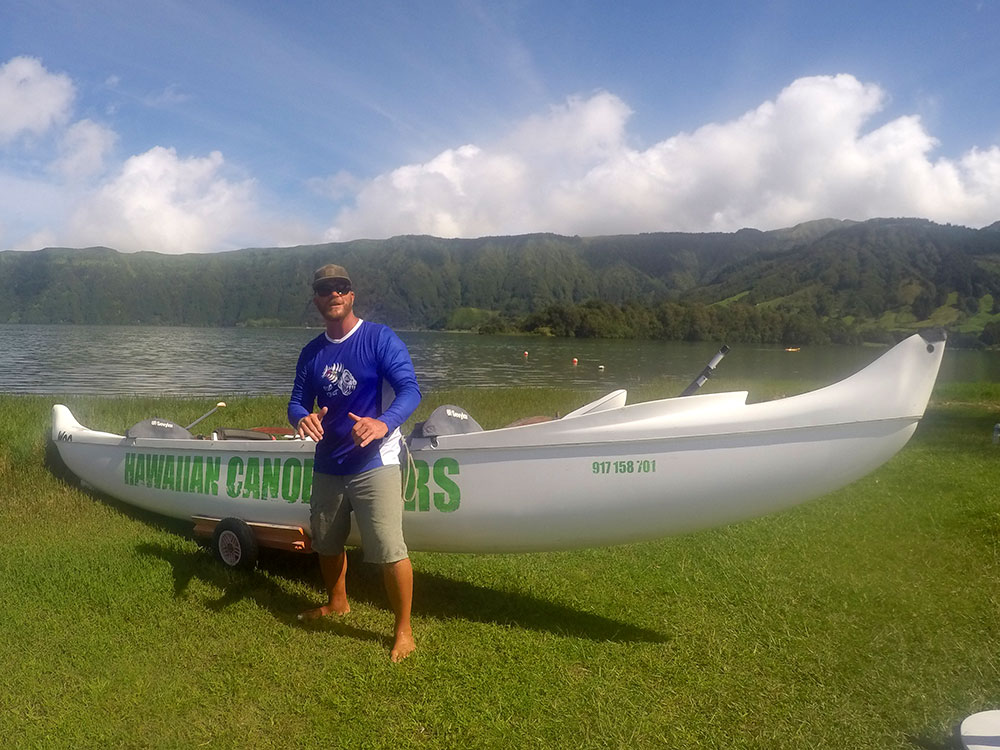 The paddle was stunning! Dramatic landscape in every direction. I was waiting for the Pterodactyls to appear. This was Jurassic Park.
We paddled from one lake to the next, only seeing two other people. We had this magical place all to ourselves. At the far end of the lake, we would find a small beach at the base of the volcano wall to land on and hang out for a bit.                                                                   I could build a tree house and stay here for a while I thought…
After exploring for a bit we decided to head back. After talking story with Jorge for a bit and stoking him out with some Kumu Boards gear, we decided to get a better look at this impressive natural wonderland. We wanted to see where we were just paddling and check out the top of the crater or "caldera." We thought, what better way to do this than on Horseback!
After paddle – Horse riding on the crater
We were lucky enough to find the great people at Quinta De Freio. They are a smaller family operation who actually rescue horses. Giving rides is just how they pay to keep and tend to the horses. Something we love to support. But, experienced riders should understand this and take it into consideration. This is an intimate, mellow trail ride, to see a view that will blow your mind! We met up with our guide Andre and after a quick introduction to our horses, we were off to the top of the caldera.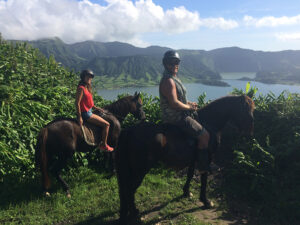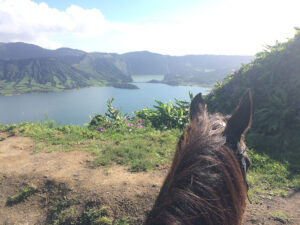 The trail up the volcano is covered with ginger lily and flowers that make a great treat for you and your horse along the way.
Once you reach the top of the ridge, the views are… well, words would just ruin it and much like trying to capture a full moon with your iPhone, pictures just can't capture the true beauty and essence of this place.
Minds blown! We returned to the Quinta De Freio and headed down into the ocean village of Mosteiros for some fresh fish, vinho, and one of the best places to watch the sunset on the island.
Sao Miguel exceeded our expectations on every level and of course, I am now going through the standard motions of finding such a majestic place. You know, looking at places to rent or buy and plans to move or spend more time here.
After the last few days? It's more than likely that you will see Mana Kai Paddle in The Azores Islands again soon.
…..to be continued